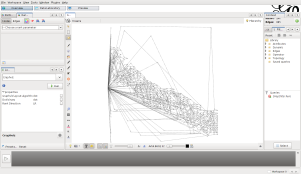 TLDR, plugin:
http://icculus.org/~chunky/stuff/gephi_ ... aphviz.nbm
I have a bunch of graphs that graphviz does a great job of laying out.
I submitted a
blueprint
requesting a graphviz plugin, but I went ahead and wrote it myself. Also, all the cool kids bring code to the table
http://icculus.org/~chunky/stuff/gephi_graphviz/
Contained on that page is the source code, the .nbm plugin, and an example graph that dot does a good job of laying out [in this case, it's from a genetic algorithm I'm working on, showing ancestry]
Please feel free to try it and lemme know how it goes. This seemed like a really quick and easy way to bring a whole bunch of neat layout engines to Gephi.
Have fun,
Gary (-;